These spinach & cheese muffins are very tasty, easy to hold for little ones and a great snack for days out. I started making these at the start of my daughter's weaning journey. As she was allergic to dairy and eggs back then, I was using substitutions, but here is the recipe that we do today that she has outgrown them. We often make them together, she is in charge of putting the ingredients in the bowl and she can't wait to take them out of the oven. She will have 3 or 4 sometimes when they come out as she likes them fresh and warm. The recipe makes 12 muffins. If you do like them fresh too, I recommend freezing some as they get a little bit hard on the second day.
Ingredients & How to
We have the basic muffin ingredients which are flour, egg, milk and baking powder. Then, there are the ones that give the flavour, the onion, spinach and cheese.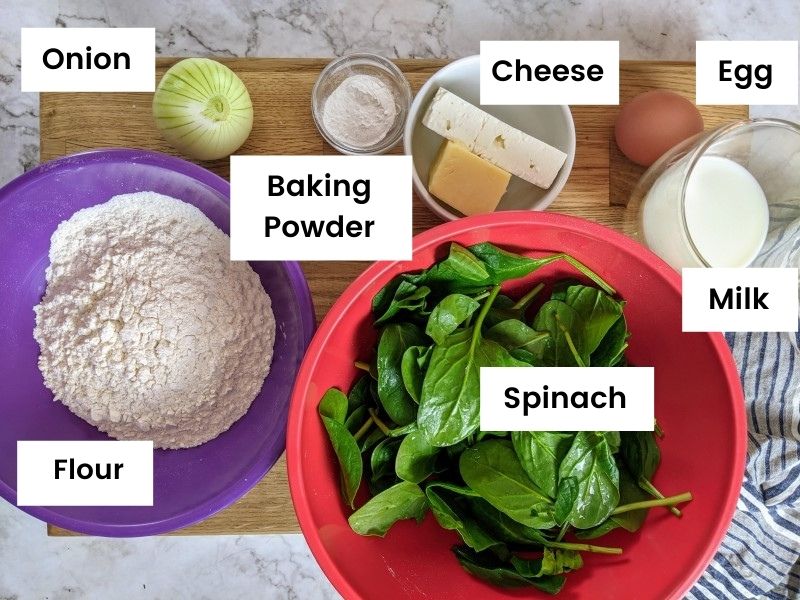 I like to cook the onion a little bit before adding it to the mixture. I find that the sweetness and flavour of the onion come out more after a little bit of heat. Just add a tablespoon of oil to a small pan, add the chopped onion and leave it for 3-4 minutes to caramelise. Let it cool down for a couple of minutes before adding it into the bowl with the rest of the ingredients.
As for the cheese, I like to mix two different kinds, a hard cheese (usually cheddar) and feta cheese. I prefer this blend as the hard cheese usually will melt and has a strong taste, and then the crumbled feta cheese will get a bit hard and be more distinct in every bite. However, I have made them only with cheddar cheese in the past, as it depends on what I have in my fridge at the moment, and they did taste really good. So, I will leave it to you and your taste.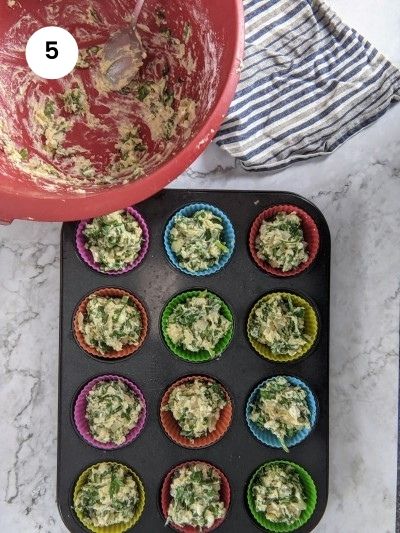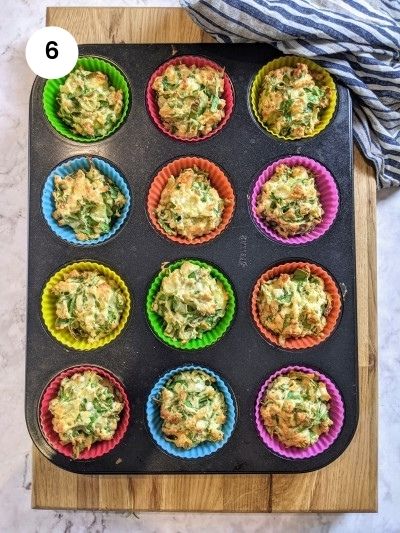 In the recipe ingredients, I don't have any salt. Because of the cheese, I feel it's not needed and I'm trying to keep salt intake as lows as possible for my little one. However, if you like your food a bit salty then feel free to add a pinch of salt.
For baking, I use a 12-case muffin tray and put the mixture in some silicon cases. You could also use paper cases. If you don't have any silicon or paper cases, add a little bit of oil inside each case in the tray before adding the mixture in.
Substitutions
You can turn these easily into vegan by substituting some of the ingredients. Instead of
Dairy milk -> Coconut or Almond milk
Cheese -> Vegan cheese
Egg -> chia or flaxseed egg. Add 1 tbsp of chia or flax seeds and 3 tbsp of water in a bowl and leave it for about 5-10 minutes until it's like a gel.
Serving
You could have them for a light lunch with some salad and fruits. They are a great as a morning snack, for taking out on a walk and for lunch boxes. They are suitable for babies from 6 months old and great option if you follow the Baby Led Weaning method.
Storage
Keep them in an airtight container at room temperature and consume them in 2-3 days. In the fridge, they will last longer, 3-4 days. These are also freezable. Let them cool down a bit after taking them out of the oven and freeze them for up to 2 months.
Video
Spinach & Cheese Muffins
These spinach & cheese muffins are a delicious snack or appetizer. You could have them as a brunch or in your lunchbox too. They are great for babies & toddlers and a good option for BLW as they are easy to hold with their little hands.
Print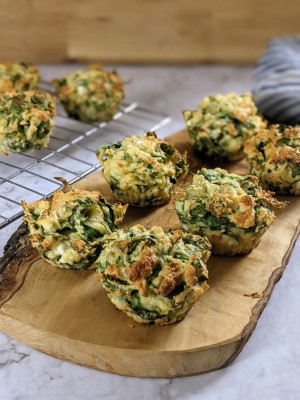 Ingredients
1 1/3 cup (200gr) plain flour
2 tsp baking powder
1 onion chopped
1 egg
1/2 cup (125ml) milk
4 cups / 70-80gr spinach chopped
1/2 cup / 50gr hard cheese grated
1/2 cup / 50gr feta cheese
Instructions
Preheat the oven to 180°C/350°F

Heat a tablespoon of oil in a small pan. Add the onion and sauté for 3-4 minutes until it's golden and soft.

Leave it at the side to cool down while you are preparing the other ingredients.

Chop the spinach, grate the hard cheese and use your fingers to crumble the feta cheese.

In a big bowl add all your ingredients, flour, baking powder, onion, spinach, cheese, milk and egg.

Mix well all ingredients using a spatula or your hands.

Spoon the mixture into the muffin tray.

Bake for 20 minutes or until golden brown. Allow them to cool down before removing them from the tray.
Notes
For a vegan version, you could substitute cheese with a vegan one, milk with a dairy-free alternative like coconut or almond milk. For the egg, add a tablespoon of chia or flax seeds in a small bowl with 3 tbsp of water and let it rest for 5-10 minutes.
Storage
Keep them in an airtight container at room temperature and consume in 2-3 days. In the fridge, they will last 3-4 days. These are also freezable. Let them cool down a bit after taking them out of the oven and freeze them for up to 2 months.
Nutrition Info (per serving)
Calories: 105kcal | Carbohydrates: 15g | Protein: 5g | Cholesterol: 22mg | Fat: 3g | Saturated Fat: 1g | Polyunsaturated Fat: 0g | Monounsaturated Fat: 1g | Fiber: 1g | Sodium: 170mg | Potassium: 60mg | Sugar: 1g
I am not a nutritionist. The nutrition information has been calculated using an on-line calculator, and is intended for information and guidance purposes only. If the nutrition information is important to you, you should consider calculating it yourself, using your preferred tool.